[mp_row] [mp_span col="12"]
About Bartels Truck Line
We've come a long way from when this photo was taken in 1950 of Alvin Bartels, on the right. Frebert Papke is on the left. How times have changed in the transportation industry!
Bartels Truck Line is a Winthrop, Minnesota based transportation company with over 73 years of experience in the industry! The Bartels Truck Lines strives together to find innovative solutions for all your transportation needs.
Bartels offers an expanded portfolio of transportation and related services. Our clientele includes small local businesses to large manufacturers. We work personally with each client to insure complete satisfaction. We take pride in what we do – you can trust us to provide reliable and consistent service to your customers and do so with safety in mind!!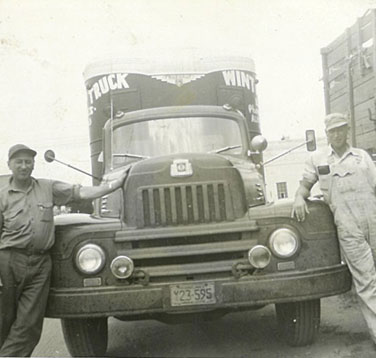 Our Services
Transportation of refrigerated and non-refrigerated products
25+ company drivers dedicated to safety and customer service
Local Dedicated Service – within 50 miles of the metro area of Minneapolis/St. Paul Regional area.
Regional Operators from Minnesota to Texas and inside the Mountain Ranges
Long-Haul Over-the-Road: Coast to Coast No North East Routes

On-Time Delivery
When it comes to your dry or temperature controlled shipments, quality on-time delivery is a primary concern.
Bartels Transportation Services has developed a network of small, independent owner-operators and back haul carriers that work together to give you reliable, cost-saving transportation solutions. Our service record rivals that of any asset-based carrier due to the relationship we have cultivated with our vendors.
Our Team