Our History
Bartels Truck Line is a company with a company with a very simple history. A history that while simple is full of hard work and commitment not only for the drivers in the trucks but for the families that are left at home.
Our founder, Alvin Bartels, began his working career not behind the wheel of a semi but working land and raising animals with his father. In 1937 Alvin began his first driving job making town and country fuel deliveries for the Brownton Oil Company. In 1939 he transitioned to Bowbly Produce Company where he hauled eggs to Chicago. In 1942 Alvin took a more local job hauling milk from local creameries to the Tri-County Creamery.
With nine years of driving experience and with the support and encouragement of his wife Bernette and two children Allen and Lorna, Alvin launched Bartels Truck Service in February of 1946 hauling freight of livestock and milk product.
Alvin's son Allen began driving semi's as soon as his feet could reach the pedals. Growing up Allen had three loves in his life semi's, farming, and sports. After high school Allen attended junior college to play basketball and in March of 1968 Allen joined the Army National Guard doing his service there and attending Mankato State University.
After college Alvin and Allen began raising livestock, crops and running Bartels Truck Line. Through the years everything worked well. Allen and his wife Joleen were blessed with two children who helped on the farm while going to school.
In 1992, Alvin Bartels lost his loving wife Bernette and approached Allen Bartels about the desire to retire and transition to Allen running the businesses on his own. At the time everything was working smoothly but quickly after the transition and Allen's children were going off to college Allen was forced to make a decision.
In 1993, Allen decided to sell his farming operation and cattle to focus all of his attention on Bartels Truck Line. Since then Bartels Truck Line has transitioned away from hauling livestock and focus primarily on refrigerated freight.
After waiting 12 years to join his wife Bernette, in 2004 Alvin Bartels passed away.
Through the years Bartels Truck Line has seen ups and downs and today with the guidance from Allen and his son Jay and grandson Max, Bartels Truck Line is operating in all 48 states with local, regional, and over the road freight. With 50 company drivers along with BTS Express and 15 Owner Operators. Bartels Truck Line and BTS Express are small trucking companies in size but can compete with any large company on the road with customer service and driver dedication.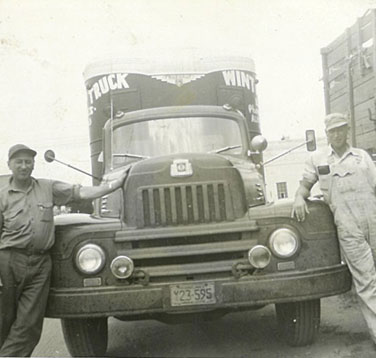 Our Services
Transportation of refrigerated and non-refrigerated products
25+ company drivers dedicated to safety and customer service
Local Dedicated Service – within 50 miles of the metro area of Minneapolis/St. Paul Regional area.
Regional Operators from Minnesota to Texas and inside the Mountain Ranges
Long-Haul Over-the-Road: Coast to Coast No North East Routes

On-Time Delivery
When it comes to your dry or temperature controlled shipments, quality on-time delivery is a primary concern.
Bartels Transportation Services has developed a network of small, independent owner-operators and back haul carriers that work together to give you reliable, cost-saving transportation solutions. Our service record rivals that of any asset-based carrier due to the relationship we have cultivated with our vendors.